Click on the underlined links to find out more.
During the fourth step of the Wizard, you are asked to enter the relevant security information. Security information contains two groups of data related to your user account:
While using 4Team OutShare applications and services, a situation might occur that you forget your login and/or password meant for logging in to your Service Account. Therefore, when registering a Service Account, you are asked to select a secret question and enter a particular answer to it. This information is used by the system when you need it to remind of your password, and you do not have an access to your indicated e-mail.
Select a secret question to write a particular answer to on the 'Secret question:' combo box;

Enter an answer to the selected secret question on the 'Answer:' edit field. We recommend entering an answer that is easy for you to remember.
Login and password are necessary for the user to log in to OutShare Service Account he/she belongs to. Yet, for logging in you may use either the login e-mail or an alternate login. Alternate login is a user-defined string that may contain the symbols A-Z, a-z and 0-9.
Select the 'Enable login by own username' check box;

Enter a suitable alternate login on the edit field that appears below the 'Enable login by own username' check box right after you have selected it.
Enter a suitable password string containing no less than 5 and no more than 15 symbols on the 'Password:' edit field.

Confirm (re-enter) your password on the 'Confirm password:' edit field. Please, note that the password and confirmation should match exactly.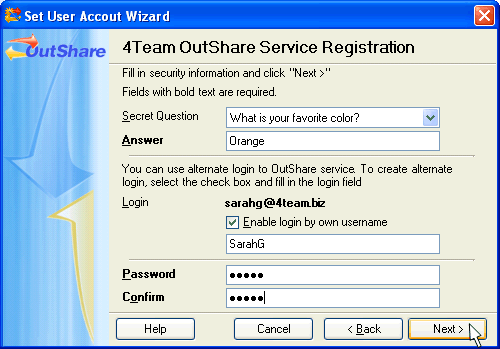 >> Next Step: Select OutShare license type
<< Previous Step: Enter your residence and contact information

Note:
When you register both login e-mail and an alternate login, you can log in to your Service Account using any of them.

To log in to your Service Account using the indicated alternate login, enter the login string in the following format: Service Account name\Alternate login.

In case you would need to change your login details, you will be able to do this at any time in OutShare Synchronizer by clicking the Change Login Information button on the 'OutShare Settings' form 'My Profile' tab and entering the new login e-mail, alternate login and/or password in the appropriate fields of the 'Change Login Information' form.