Click on the underlined links to find out more.
During the second step of the 'Set User Account' Wizard, you can specify your general information:
Select a suitable title – Dr., Miss, Mr., Mrs., Ms., or Prof.

Type your first and last names on the 'First name:' and 'Last name:' edit fields respectively. Please, note that the first and last name fields are obligatory to fill in.

Enter your occupation;

Indicate your company name. This information may be relevant when you are registering a Service Account for a certain company or an organization.

Specify the name of the Service Account. By default, Service Account name is generated using either the first two letters of your first name and the first three letters of your last name, or the first ten letters of the company name when the latter is indicated on the 'Company name:' edit field. Equally, you may enter a suitable name for your Service Account on this edit field. Please, note that the 'Service Account name:' field is also obligatory to fill in. It will be used for logging in to the Service Account.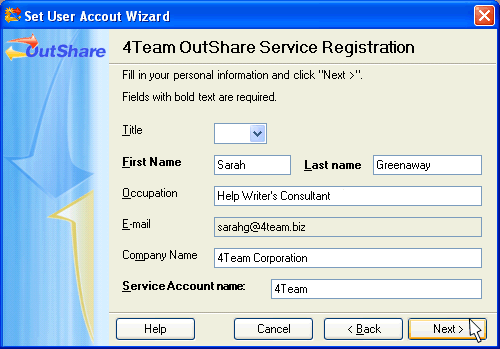 >> Next Step: Enter your residence and contact information
<< Previous Step: Enter your e-mail address

Note: When you register a Service Account with a certain name, you will not be able to change it afterwards.