Click on the underlined links to find out more.
When registering a new Service Account, first of all you are asked to enter your e-mail address. The e-mail address you indicate serves for two purposes:
To be used for logging in to your Service Account as the login e-mail;

To be used by OutShare Service Support to send the e-mail messages to. The messages you receive from OutShare Service Support are meant for informing you about various matters concerning your Service Account, e.g., confirming your Service Account registration, reminding your login details upon your request, and etc.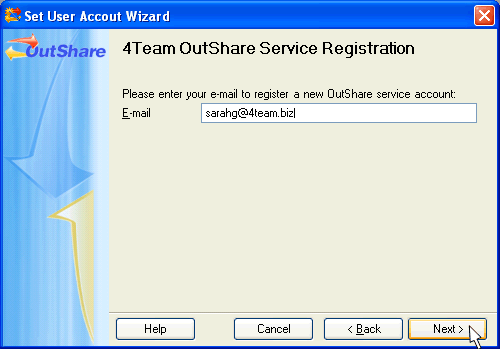 When you enter an e-mail address on the 'E-mail:' edit field, the system verifies whether it is valid and if it is not already related to another OutShare Service Account. In case the entered e-mail address is already used for working with 4Team OutShare, you will be asked to select one of the following options:
Sign up for a new OutShare Service Account. When you select this option, you will be directed to the of the Wizard for continuing the registration of a new Service Account with the same e-mail address;

Use an existing OutShare user account. When you select this option, the 'OutShare Synchronizer - Login' form is opened to log in to an already registered Service Account you belong to.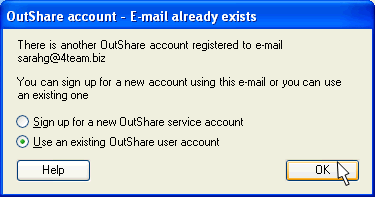 >> Next Step: Enter your general information
<< Previous Step: Initial Step

Note:
Please, have in mind that you might be assigned to a certain Service Account you have not registered yourself by the of that Service Account. In that case, your login details could be sent to your e-mail by OutShare Service Support upon the request of the administrator. If you have not found an e-mail informing about your login information, please contact your Service Account administrator or OutShare Service administrator/4Team Support team.

If you already belong to a registered Service Account, and you use it on this computer, creating or setting a new account will make it impossible for you to access your current account (i.e. your synchronized and shared Outlook data as well as Public Folders data) from this computer. To change the account again, you will have to run the 'Set User Account Wizard' once more.

When the same e-mail address is used as the login e-mail for several Service Accounts, in order to log in to a certain Account the user has to enter login string in the following format: Service Account name\E-mail.