Click on the underlined links to find out more.
In order to activate and/or , perform the following steps:
Connect to the Internet.

Go to OutShare Synchronizer Help menu, point to About... and click the button on "About 4Team OutShare" form;

Enter your Activation Code* (your Order ID) on the "OutShare Synchronizer Activation Code:" and/or "OutShare Web Access Engine Activation Code:" fields of "OutShare License Activation"** form.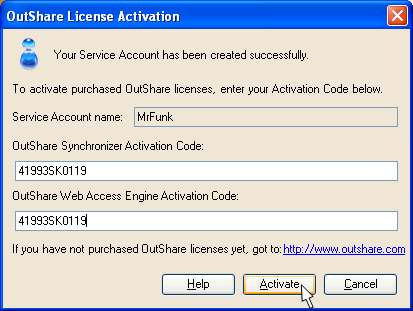 Click Activate button.
The program will continue functioning as a full version.
If you receive the Activation Failed dialog, Yes and reenter your Activation Code. If this does not help, please contact our Customer Support by e-mail, over the phone or via Live Help.
* In order to activate the product, you need to purchase it and obtain the Activation Code. Click the Buy Online button on "About 4Team OutShare" form to go directly to product website.
An Activation Code will be sent to you by e-mail after you purchase the product.
** You may access the "OutShare License Activation" form in any of the following ways:

Note: You may also activate OutShare licenses right after the Service Account registration or using as well as in . You should also utilize the latter application to among your .


4Team OutShare website