OutShare Synchronizer is an application allowing you to synchronize your Outlook folders (Mail, Contacts, Tasks, Calendar type folders) between your computers, share these folders with your friends and colleagues, use common public folders and perform other tasks.
Synchronizer saves all changes made in your Outlook to the local database on your PC. During the synchronization process all changes made in your Outlook Personal folders on your current PC are sent from the local database to the server, and all changes made by you in your Outlook Personal folders on other PCs are received. Additionally, all changes made by other users in public and shared folders are also received during synchronization. Thus, your Outlook data is synchronized between all your computers, where 4Team OutShare is installed and your OutShare login is the same, e.g. your work computer and your home PC.
Every OutShare user belongs to a particular Service Account. A Service Account is space on the server where users' data is stored; any number of Service Accounts can be created on the server. All users who belong to a particular Service Account have access to public folders, which are created within this Service Account and are available only for users of this particular Service Account according to the permissions they have. Every OutShare user can also have shared folders; these are the folders that the user was given access to by other OutShare users. Shared folders are available to a user according to the permissions he was given by the owners of these folders. Both public and shared folders can be accessed from a user's Outlook.
Also, you can view all of your synchronized data on the Web using the OutShare Web Access Engine – Personal and OutShare folders (public and shared folders) are displayed in the same way as in Outlook.
Note: All of your Personal Outlook folders can be synchronized, except for the following folders: Deleted Items, Journal, Junk E-mail, Notes and Outbox.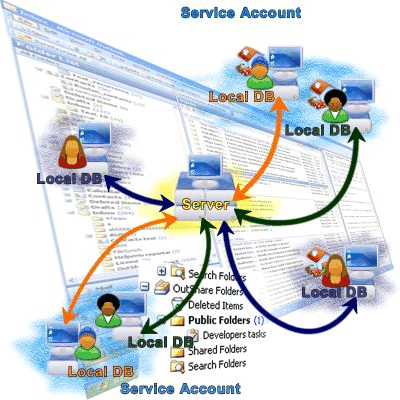 Version 1.0.3308/H1.21AK

4Team OutShare website