Click on the underlined links to find out more.
Service Account Administration console provides the options for customizing web appearance* for Web Access Engine, and allows Service Account and to get HTML login code.
Select Web Settings… on the menu.
On the 'Web Settings' form, you can:
Select the preferred user interface skin**;

Select the needed web interface language**;

Get HTML login code.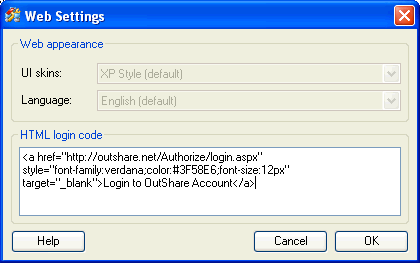 Note: 'Web Settings' form is available when the Service Account has Web Access Engine license(s).

* In OutShare version 1.0, only default web appearance settings are usable.
** This functionality will be implemented in OutShare version 1.10.