Click on the underlined links to find out more.
When you navigate to Public Folders on the , you can create new in one of the following ways:
Select on the Edit menu;

Click the New Folder button on Public Folders toolbar;

Right-click Public Folders on the tree view pane and select on the ;

Right-click on Public Folders list view pane and select on the shortcut menu.
Afterwards, the 'New Folder' form is opened to enter the folder name and select one of the available folder types – Calendar, Contacts, Mail or Tasks – for the new Public Folder.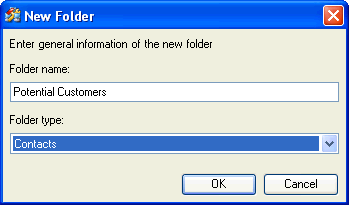 Note:
You may create a new sub-folder within an existing Public Folder by selecting or clicking the New Folder… menu item/button accessible in the ways indicated above when you are located on a certain folder on the tree view pane or Public Folders list view pane.

You may also create new Public Folders directly in Microsoft Outlook, the same way you create ordinary Outlook folders.

Though you can create new Public Folders on Service Account Administration console, you will need to add the required items to these folders from Outlook.