Click on the underlined links to find out more.
To create a new , the following steps need to be performed:
Access the 'Department Details' form in one of the following ways:
Indicate general information of the new department on the 'Department Details' form:
Enter the name of a new department;

Select the main . When you click the downward arrow next to 'Main administrator:' edit field, a belonging to of the current department is displayed. Service Account administrators are included in this list by default;

Type the description of a newly created department.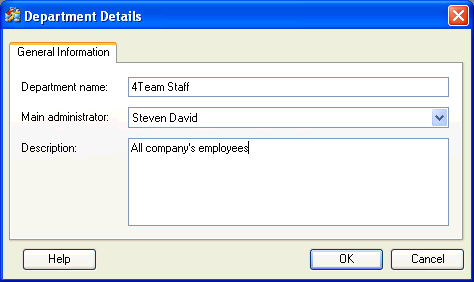 Note:
You may also create a new sub-department within an existing one by selecting or clicking the New Department… menu item/button accessible in the ways indicated above when you are located on a certain department on the .

If the main department administrator is not set manually, default Service Account administrator is automatically set as the main administrator of the department.

If you wish to set the user who does not have Administrator rights in neither the Service Account, nor the relevant department, as the main department administrator, first of all you need to add this user to the Administrators user group in the relevant department, and afterwards change the previously set main department administrator to the needed one on the 'Department Details' form.