Click on the underlined links to find out more.
In Service Account Administration console, you can specify the certain settings of OutShare performance for your . To configure these settings, first of all you need to access the 'General Settings' tab on 'Company Details' form in one of the following ways:
Right-click Service Account, Departments and Users or a certain department on the and select on the ,

Click the 'General Settings' tab on the 'Company Details' form.
On the 'Company Details' form

'General Settings' tab you can specify the following settings:
Allow or forbid Service Account users to disable their own user accounts,

Set the restriction for the size of users' personal data stored on OutShare server. By default, size restriction for users' personal data storage is set to 1 GB.

Set the time limit for the validity of generated external links ('s) referring to created by Service Account users. Default limit of the external link validity is 1 month. Equally, you may also clear the 'Limit external link validity to:' checkbox to enable setting permanent external links to the created Public Folders.

Disable the current . When the Service Account is disabled, it cannot be accessed by Service Account users.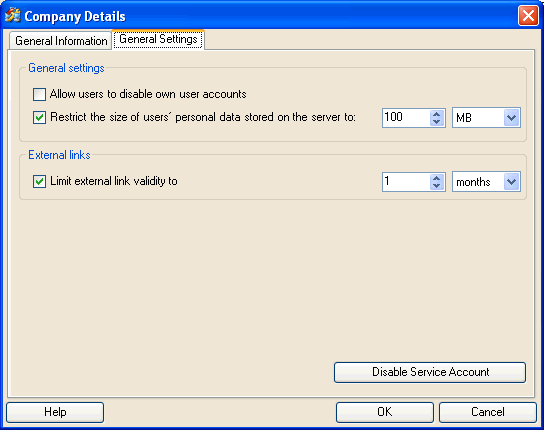 Note:
Service Account can be disabled by the Service Account administrator(s). Yet, it can be enabled once again only by OutShare Service administrator or 4Team Support team.

Service Account administrators may also disable the Service Account in OutShare Synchronizer/OutShare Synchronizer integrated into Microsoft Outlook by clicking the Disable Service Account button on the 'OutShare Settings' form 'My Profile' tab.