Click on the underlined links to find out more.
In order to activate and/or , perform the following steps:
Navigate to Licenses on the ;

2. Click the Activate… button located within the or group box;

On the 'License Activation' form, enter your Activation Code for purchased OutShare Synchronizer or Web Access Engine licenses (accordingly).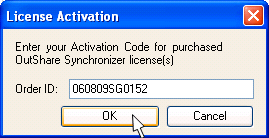 When you are already using the full version of OutShare, you can re-activate OutShare Synchronizer and/or Web Access Engine licenses by performing the steps indicated above. You may need to utilize this function when the acquired OutShare license is about to expire and you purchase a new license to continue using 4Team OutShare, or you purchase additional OutShare Synchronizer user/device and/or Web Access Engine user licenses.

Note: You may also activate OutShare licenses on form, accessible by going to Windows Start menu

All Programs, pointing to 4Team OutShare and selecting on the drop-down menu, or alternatively selecting About 4Team OutShare on the Help menu in OutShare Synchronizer/OutShare Synchronizer integrated into Microsoft Outlook and clicking the Activate... button on the 'About 4Team OutShare' form.