Click on the underlined links to find out more.
You can view and edit the entered information on the 'Department Details' form that can be accessed in one of the following ways:
Navigate to Service Account or Departments and Users on the tree view pane;

Right-click the chosen department on and select on the shortcut menu.
The 'Department Details' form represents the following department details that can be viewed and edited by Service Account administrators and the (s) of the selected or the parent department:
Name of the department;

Main department administrator. When you click the downward arrow next to the 'Main administrator:' edit field, a who have the permissions to manage current department (i.e. users belonging to of the current department, as well as Service Account administrators) is displayed. To change the current main department administrator, just select the needed one on the list.

Description of the current department.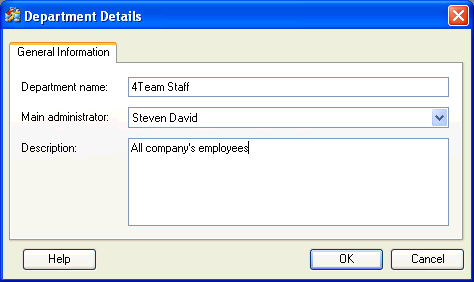 Note:
Administrators of other departments can only view the indicated information.

If the main department administrator is not set manually, default Service Account administrator is automatically set as the main administrator of the department.

If you wish to set the user who does not have Administrator rights in neither the Service Account, nor the relevant department, as the main department administrator, first of all you need to add this user to the Administrators user group in the relevant department, and afterwards change the previously set main department administrator to the needed one on the 'Department Details' form.