Click on the underlined links to find out more.
In order to view the details of all your Contacts, do the following:
Open the My Users tab on the Settings form.

Select Contacts or from the Show Users from the: combo box. The Add New Contact button on the right and the Contacts tab below appear. Details of each Contact are displayed in the Full Name, Display Name and E-mail Address columns: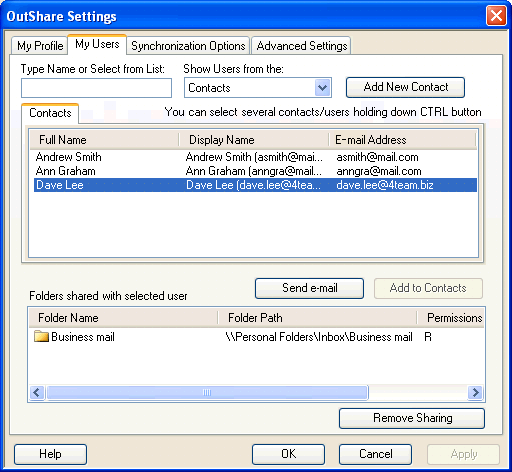 Additionally:
If you wish to send e-mail to a particular user, select this user from the list and click the Send e-mail button below the Contacts tab. The standard Outlook form for new message appears with the field To… already filled in.

If you want to , click the Add New Contact button. The standard Outlook form for new Contact appears.
Note: If the newly added Contact hasn't appeared in the Contacts list on the My Users tab, navigate to the other folder on the Show Users from the: combo box and then return back to the previous folder.
Click OK to exit the form.
Note:
You can also of your Service Account. In this case the My Users tab changes its appearance slightly – the Belonging to Group: list box and the Users tab appear instead of the Contacts tab.

Furthermore, in the list box at the bottom of the tab a list of all folders shared with the selected user is displayed. If you wish, you can directly from this tab.

If there is only one user in your Service Account or there are several users in your Service Account, but the connection with the server is lost, a Contacts type folder will be selected on the Show Users from the: combo box by default.