Click on the underlined links to find out more.
When working in and connection with the server is lost or you have manually, you can switch to in the following ways: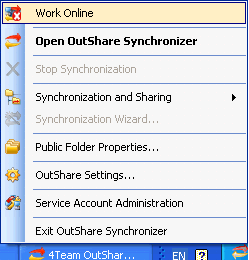 The Synchronizer icon on the taskbar notification area indicates that Synchronizer has switched to online state:

. Button and menu items on the main Synchronizer window change their name to Work Offline.
Note:
When you switch to online state, the synchronization process starts for all folders set up for synchronization.

If connection is not restored, click on the Work Online button/menu item again or wait until the connection is established according to on the dialog or settings selected in the Reconnection settings section of the Advanced Settings tab of the form.

The Synchronizer icon on the button and menu items indicates the current Synchronizer status.