Click on the underlined links to find out more.
If you want to stop the synchronization process which has started for the selected folder(s), do one of the following: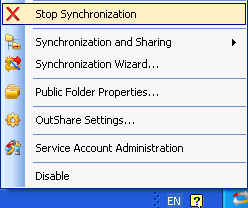 The synchronization process is canceled.
When the synchronization process ends, the time of the last synchronization is displayed instead of the synchronization progress bar on the . In the synchronization are displayed for each folder, showing at what stage the synchronization process for each folder was stopped, i.e. what part of synchronization was carried out before the moment when the synchronization process was stopped.
Note:
You can view synchronization details on the form by clicking the Synchronization History button on the main Synchronizer window.

If the is selected, manual synchronization cancelling is unavailable, so all controls and menu items mentioned above are disabled.