Click on the underlined links to find out more.
You can set Web Access to your Outlook folder or a particular folder item for other people. OutShare will create a Web Access link to your Outlook folder or item, which will be valid for a time that you specify. This link can be e-mailed or copied to the clipboard, pasted and sent to other users. Any other person who is given this link can follow it and view the contents of your folder or particular item on the Web.
Note: You can set Web Access only to folders which have been . Additionally, you can set Web Access to a public folder only if you have been given the permission for it. If you have been given access to a shared folder by another user, you cannot set Web Access to it as well.
In order to set Web Access link to your folder or item:
In your Outlook, select the folder/item that you want to set Web Access for.

Do one of the following:
If you wish to set Web Access link to your Outlook folder, click the button on the Outlook toolbar or click OutShare on the Outlook menu and select .

If you wish to set Web Access link to a particular Outlook folder item, right-click on the item and select Set Web Access Link... from the .
Set Web Access Link form is opened: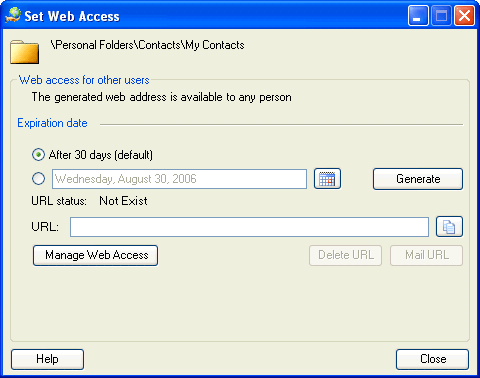 Note: If a Web Access link has already been created for the selected folder/item, all fields are filled with its properties. Update its expiration date or click Manage Web Access, if you want to . The form is opened.
By default, the validity of a Web Access link created to your folder/item is set to 30 days. If you wish to change its expiration date, select the radio button below the After 30 days radio button and click the button. Select the preferred date from the Calendar which appears.
Note: Your Web Access link cannot be valid for a longer time period than set by your Service Account administrator (Service Account administrators can administrate Service Account they belong to and users' details within this Service Account. Besides, they can administrate public folders within their Service Account) in the OutShare Service Account Administration application.
Click the Generate button to generate the Web Access link to your folder/item. Generated link appears in the URL: field.

Additionally:
Click the button next to the link, if you want to copy it to the clipboard.

Click Mail URL, if you want to send the generated link by e-mail to a particular user. A appears where you can enter a message to the selected recipient, which will include the generated web address. Click the To… button to select the recipient.
If you want to delete the link, click the Delete URL button – in this case the selected folder/item will no longer be accessible on the Web.

Click Close to exit the form.