Click on the underlined links to find out more.
You can edit your personal details (occupation, address, phone, etc.) on the My Profile tab of the form. Additionally, you can disable your or and from this tab.
When you open the OutShare Settings form, the My Profile tab is active by default: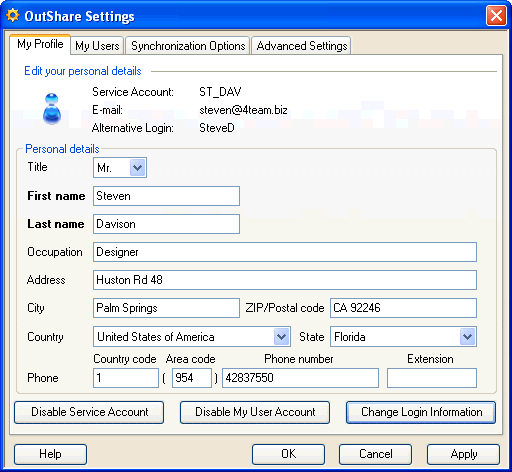 In order to edit your profile details, do the following:
1. Open the My Profile tab on the Settings form.
2. Change the preferred details in the needed fields.
3. Click the Apply button to save the changes.
4. Click OK to exit the OutShare Settings form.
Note:
Details displayed at the top of the tab (name of your Service Account, your e-mail and alternative login) can't be edited. They change only if your login information was changed.

All changes made to your data on the My Profile tab will be sent to the server only during the synchronization process.