Click on the underlined links to find out more.
In order to create a public folder from your Outlook, do the following:
Right-click the Public Folders or any public folder in Public Folders hierarchy in the Folders List on the Navigation Pane and select New Folder… from the standard Outlook menu: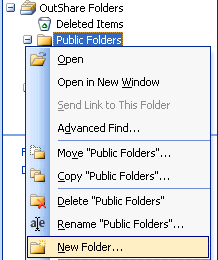 The standard Outlook Create New Folder form appears. Enter the for the new public folder the same way you do in Outlook.

The new public folder appears in the Public Folders hierarchy on the Navigation Pane: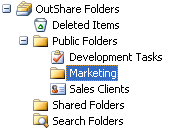 You can place any preferred Outlook items in it, which can then be viewed by all users of your Service Account (Service Account is the space on the server where the personal data of each user, created within this Account, and public folders data, common to all users, is stored. The size of the particular Service Account and number of its active users are limited by the type and number of purchased licenses. Each Service Account has a unique name) according to the permissions they have been given.
in order to synchronize the newly created public folder with the server.

In order to make public folder accessible for other users, open the form, add or to the new public folder and for them.

in order to save the user permissions data to the server.

Finally, in order for users to view the contents of public folder, they should also start the synchronization process in their Synchronizer.
Important:
In order for the OutShare folders hierarchy to appear in your Outlook, you should at least once.

You cannot create a public folder and set permissions for its users, if you don't have the and permissions respectively.