Click on the underlined links to find out more.
You can change your login and password you use for logging on to OutShare Service directly from the My Profile tab of the Settings form. In order to change your login and/or password, do the following:
Open the My Profile tab on the form.

Click the Change Login Information button at the bottom of the tab. The Change Login Information form appears: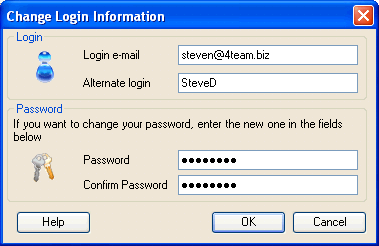 Note: If connection with the server is not established or was lost, the Change Login Information button is disabled.
You may change only your login details, only your password, or both. If you want to change your login and/or alternate login, enter new values in the Login e-mail and Alternate login fields. If you want to change your password, enter the new password both in the Password and Confirm Password fields.
Note: Password should be at least five characters long and no longer than fifteen characters.
Click OK.

The Submit Changes form appears. Enter your current password in the Current Password field and click OK: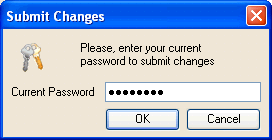 Click OK to exit the OutShare Settings form.
When you log on to Synchronizer next time, you should use the new login details.