Click on the underlined links to find out more.
You can edit your personal details, disable your Service Account and user account and change login information directly from the form. This form enables the user to see all his Contacts and users from his Service Account, and also to view the folders which are shared with every user. You can also set synchronization options as well as duplicates and conflicts options and advanced OutShare settings here: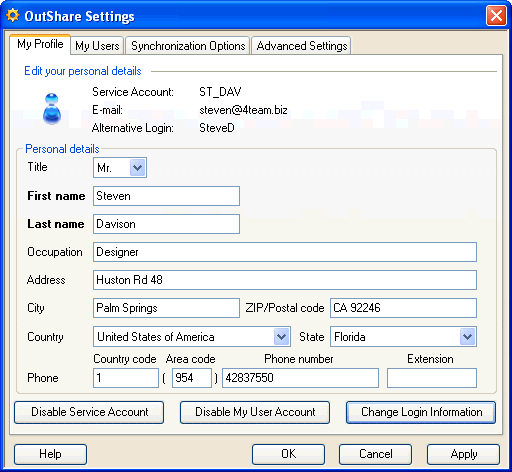 The OutShare Settings form has four tabs – My Profile tab, My Users tab, Synchronization Options tab and the Advanced Settings tab:
The My Profile tab allows you to – name, address, phone, etc. You can from this form. Additionally, if you are the administrator of the Service Account, you can . Additionally, you can on the My Profile tab.
This tab allows you to or all or a particular Department within your Service Account. You can view information for all users or only administrators belonging to the Service Account or Department. Moreover, you can and stop sharing the selected folder with some user if you wish. Additionally, you can send e-mails to the selected OutShare users or your Outlook Contacts and directly from this tab.
You can on this tab. This tab also allows you to .
This tab allows you to set advanced OutShare settings – you can select connection mode, , and Synchronizer here.
Note:
The Apply button is common to all tabs on the OutShare Settings form. So, if you make changes on several tabs of the OutShare Settings form and click Apply, changes made in all tabs will be applied.

The My Profile, My Users and Synchronization Options tabs can be accessed directly from your Outlook by clicking OutShare on the , pointing to OutShare Settings and selecting Edit My Profile…, My Users… or Synchronization Options… correspondingly.